Typical Dishes From Denmark You Have To Try
Critics might have looked at Danish food with disdain 30 years ago, but now – thanks to Noma and the New Nordic culinary movement – the country's food scene is seen as one of the best in the world.
New Nordic culinary values are fundamental to Rasmus Munk's Copenhagen restaurant, Alchemist  Soren Gammelmark, Courtesy of Alchemis
"Danish food was a poor farmers' cuisine in some ways," says Copenhagen-based chef Rasmus Munk, who has seen cuisine in the country change dramatically in his lifetime.
Ingredients used to be what Munk describes as "down to earth," with plenty of leeks, potatoes and onions, as well as root vegetables including celeriac, turnips and carrots. Growing up in Jutland, on the mainland of Denmark, Munk found that hearty fare was piled high: "You needed to be full when you left the table – there was a lot of protein."
And much of that protein, of course, came from Denmark's famous pork industry, with pork meat and bacon featuring heavily in traditional Danish grub.
These days, New Nordic culinary values – such as using fresh, locally grown, quality produce that's in season – are now firmly part of Denmark's culinary DNA. And they're fundamental to Munk's Copenhagen restaurant, Alchemist.
There, Munk uses seasonal Danish ingredients such as wild strawberries and Nordic herbs like cicely, but at age 28, he represents a new generation of Danish chefs intent on shaking things up further.
Munk's 50-course menu at Alchemist encourages diners to think more about the origin of their food, and the state of the world: Danish pork is injected at the table with 'antibiotics' (apple sauce) to raise the issue of medicating the food supply, while cod jaw is topped with edible plastic to highlight the amount of waste in our oceans.
With Denmark's culinary scene becoming ever boundary-pushing, chefs have been revamping old favourites for a new generation, too. In a country where once tinned asparagus would have sufficed in December, New Nordic values are bringing pure, fresh, just-harvested seasonal ingredients to old-school, gut-busting, meat-and-potato-based recipes, while chefs are reinventing their traditional formats and experimenting with different cooking techniques.
"The way Danish cuisine is transforming is quite interesting – it's focusing more on the ingredients, but also looking at the ingredients in a new way. Potatoes begin to be more than just a poor ingredient – they begin to be a thing," says Munk. "And it's become an honour to pick the first beautiful strawberries, with the simplicity of milk and cream."
Every country has its own unique cuisine. Food, after all, is an incredibly important part of culture. And it's a great way to get to know a country's people and traditions. Denmark is no exception. From artfully-piled sandwiches to mouth-watering pastries, the country has a lot to offer when it comes to lip-smacking specialties. It's also home to Danish Lurpak butter — something you can't miss while you're in the country!
When you're done having a taste of that world-famous butter, treat yourself to some local fare. The experience will help you gain a deeper understanding of Danish culture and it'll certainly keep your tummy begging for more. For starters, here are six Danish dishes that you should try.
1. Smørrebrød
A classic Danish food, the Smørrebrød is an open-faced sandwich typically eaten for lunch. It consists of a single slice of rye bread piled high with a wide variety of fresh toppings. The most popular ones are shrimp with mayonnaise and fish eggs, herring in vinegar, and roast beef with horseradish.
Smørrebrød was once an affordable midday meal, but prices eventually shot up in the 19th century. That is, until Adam Aamann opened Aamanns Takeaway in 2006 and transformed the sandwich into a favourite delicacy that's not too hard on the wallet.
2. Rugbrød
Or in English, rye bread. Rugbrød is a traditional bread that's a staple in most Danish homes. It's made up of rye flour, cracked rye kernels, and seeds. Typical rugbrød would be baked with sunflower seeds, linseeds or flax seeds, or pumpkin seeds. It is very low in fat, contains no oil, is high in fiber, and is generally a healthier alternative to the ubiquitous white bread. Rugbrød is so popular in Denmark that Danes tend to miss it when they travel. For them, it's comfort food.
Tip: Spread some salted Lurpak on your rugbrød. You'll thank me later.
3. Hotdogs
With over 4,000 hotdog stands across Denmark, it's safe to say that weiners are a pretty popular snack there. In a way, it's the country's very own street food. Steff Houlberg, a known processed meats brand that began in 1889, runs what is perhaps Denmark's most loved hotdog concessionaire. The brand offers three different types of hotdogs — the French hotdog, the Ristet hotdog med det hele, and rød pølse med brød.
The French hotdog is a grilled sausage in a pocket of bread with your choice of dressing. The Ristet hotdog med det hele is a grilled sausage in a classic hotdog bun served with mustard, ketchup, and remoulade, topped with raw onions, roasted onions, and pickles. The rød pølse med brød is a red sausage that is boiled and served with your choice of dressing and a piece of white bread on the side.
4. Stegt Flæsk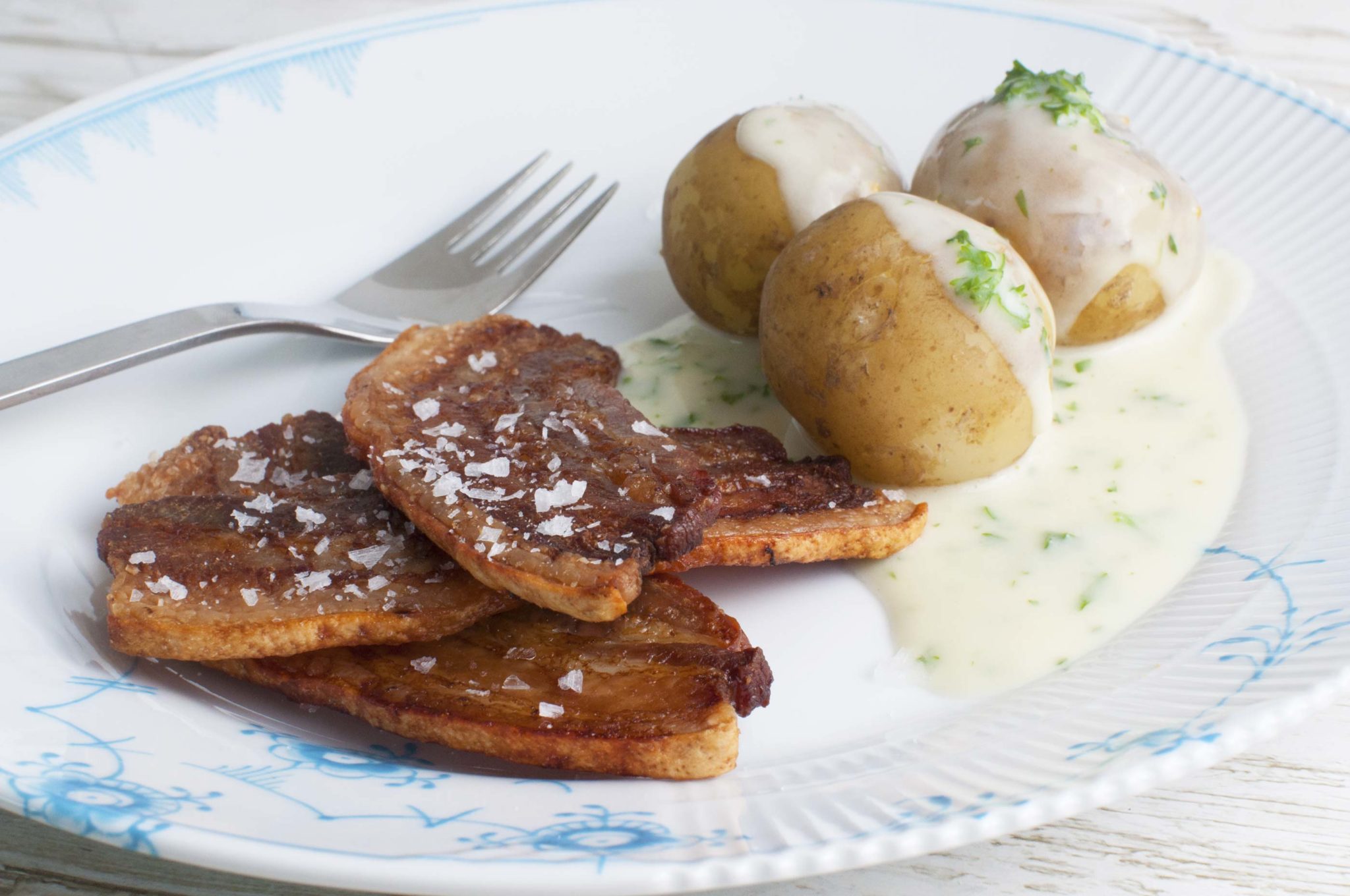 Voted in 2014 as Denmark's national dish, stegt flæsk is quintessentially Danish. It's basically fried pork belly served with potatoes and parsley sauce. The pork is similar to thick slices of bacon — something that the Danes love. Just like stegt flæsk, many of Denmark's traditional dishes include pork, potatoes, and special sauce.
Tip: Most restaurants that offer traditional Danish food serve stegt flæsk as an all-you-can-eat meal, so make sure you go with a stomach ready to be filled. Lastly, do as the Danes do! Mash the potatoes into the sauce and eat the slices of pork with your bare hands. Yum!
5. Flæskesteg
Mention Flæskesteg to any Dane and they'll surely be reminded of Christmastime. Flæskesteg is pork roasted in the oven for hours with spices, bay leaves, and cloves. It's usually served with boiled potatoes, red cabbage, and sauce made from meat drippings or stock. In Denmark, it's customary to serve Flæskesteg on Christmas Eve. And if you visit Copenhagen during Christmas, you'll see a number of Danes munching on a Flæskesteg sandwich while taking a break from holiday shopping.
6. Danish Pastry (or Wienerbrød)
If there's one thing that Denmark is synonymous with food-wise, it's the Danish pastry or the Wienerbrød. Wienerbrød is a sweet pastry made from laminated yeast dough. The final product's texture is similar to that of a croissant, except the Wienerbrød is filled with a mixture of creamed butter and sugar. The pastry was brought to Denmark by Austrian bakers and has since developed into a Danish specialty. Danes usually eat it as an afternoon dessert paired with coffee or tea.